Americans throw out between 300 and 400 million electronic devices every year, equaling approximately seven million metric tons, making the U.S. the world's second-largest producer of e-waste (behind China). A recent survey of Americans between the ages of 18 and 38 by Decluttr found that 60% threw away one or more electronic devices between March and June 2020, rather than recycling them. The top three items discarded were charging cords, headphones, and cellular phones, a not surprising finding given COVID restrictions have made headphones and headsets a mandatory piece of equipment in many schools and businesses.
Once a device is tossed into the trash, it is typically taken to a U.S. landfill, incinerated, or exported to a foreign country. Though e-waste represents just 2% of America's landfill trash, it accounts for 70% of the toxic waste, due to dangerous chemicals and metals, including lead, mercury, and zinc, which can leach into the air, soil, and water. The Basel Convention, an international treaty aimed at reducing hazardous waste exports, has raised awareness, but the sheer magnitude of the problem escapes easy solutions.
Given the rapid pace of the development of new technology, not surprisingly, e-waste is the fastest-growing type of waste. According to a U.N. report, there was a 17% increase in e-waste globally, to 52 million metric tons, between 2016 and 2021. It is, therefore, imperative that each of us learn where and how to dispose of our electronic devices.
Many cities and communities offer recycling days for e-waste, many of which are at no cost to the residents. Additionally, a website called Earth911 allows you to type in your zip code to find e-waste options in your area. The EPA lists the recycling policies of several retailers, which typically limit the number of devices they accept, and manufacturers, which tend to offer recycling only for their own products.
What if you represent a business or school with a large number of mixed-brand devices?
Cyber Acoustics, maker of popular computer peripherals, is offering the first large-scale sustainability program to accept wired headphones, headsets, and earbuds made by any manufacturer for recycling. Once you've collected at least 10 of these devices, all you have to do is register on the company's website and they'll send you a box to collect your old or broken devices, along with a prepaid shipping label.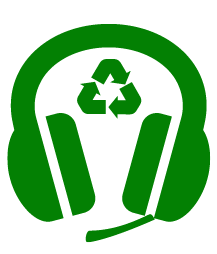 "Our primary goal with this program," explains Cyber Acoustics' COO Steve Erickson, "is to give schools and businesses a way to properly dispose of headsets and headphones that are good for the environment."
Cyber Acoustics pledges that the plastics, metals, and other components in the returned devices will be properly sorted, discarded, recycled, or re-used, and not end up in landfills. The program will also help recover valuable materials and reduce the resources needed for new products. Several dozen schools across the U.S. have already requested bins from the company to help recycle their school headphones.
The headset recycling program is just part of Cyber Acoustics' commitment to sustainability. The company has redesigned its packaging to be more compact and efficient, utilizing 100% recyclable materials, and is taking steps to eliminate single-use plastic and other non-recyclable products.
"We're all about providing solutions, and that doesn't stop at electronics. Smarter packaging and longer-lasting products are just the first steps. We are constantly taking action for a better tomorrow and are committed to a continuous process of innovation, adaptation, and change to better our planet," adds Erickson.
How other brands are doing their part
To help motivate students to go green, PepsiCo's Recycle Rally provides materials, including videos, lesson plans, posters, and prizes. It even has a fun formula for tracking and measuring a school's progress. One of PepsiCo's partners is WeAreTeachers, an organization of educators which offers additional ideas for K-12 recycling programs, including conducting regular waste audits. Project Green Schools also offers a number of useful ideas to encourage environmental awareness and reduce waste in schools.
Thanks to Cyber Acoustics' recycling program for headphones, along with numerous other electronics recycling programs sponsored by various corporations and nonprofit organizations, it's now easier and more convenient than ever to properly dispose of broken or outdated electronic items.
By joining the fight to preserve our planet, Cyber Acoustics will hopefully influence other companies that manufacture headphones and earbuds to follow suit, positively impacting our processes for responsibly and sustainably manufacturing, shipping, and recycling goods and preserving our beautiful planet for future generations.
Sources
Great Lakes Electronics Corporation. chatterbuzz. January 6, 2017. How Does Recycling Electronics Help the Environment. https://www.ewaste1.com/how-does-recycling-electronics-help-the-environment/
Mayer Alloys Corporation. Ilene Lubell. April 27, 2018. 5 Shocking Environmental Effects of E-Waste. https://info.mayeralloys.com/ewaste-blog/5-shocking-environmental-effects-of-e-waste
{ "@context": "https://schema.org", "@type": "FAQPage", "mainEntity": [{ "@type": "Question", "name": "What if you represent a business or school with a large number of mixed-brand devices?", "acceptedAnswer": { "@type": "Answer", "text": "Cyber Acoustics, maker of popular computer peripherals, is offering the first large-scale sustainability program to accept wired headphones, headsets, and earbuds made by any manufacturer for recycling." } }] }