Think headphones can be high-quality or affordable, but not both? Think again! Meet the AVID AE-39 headphones.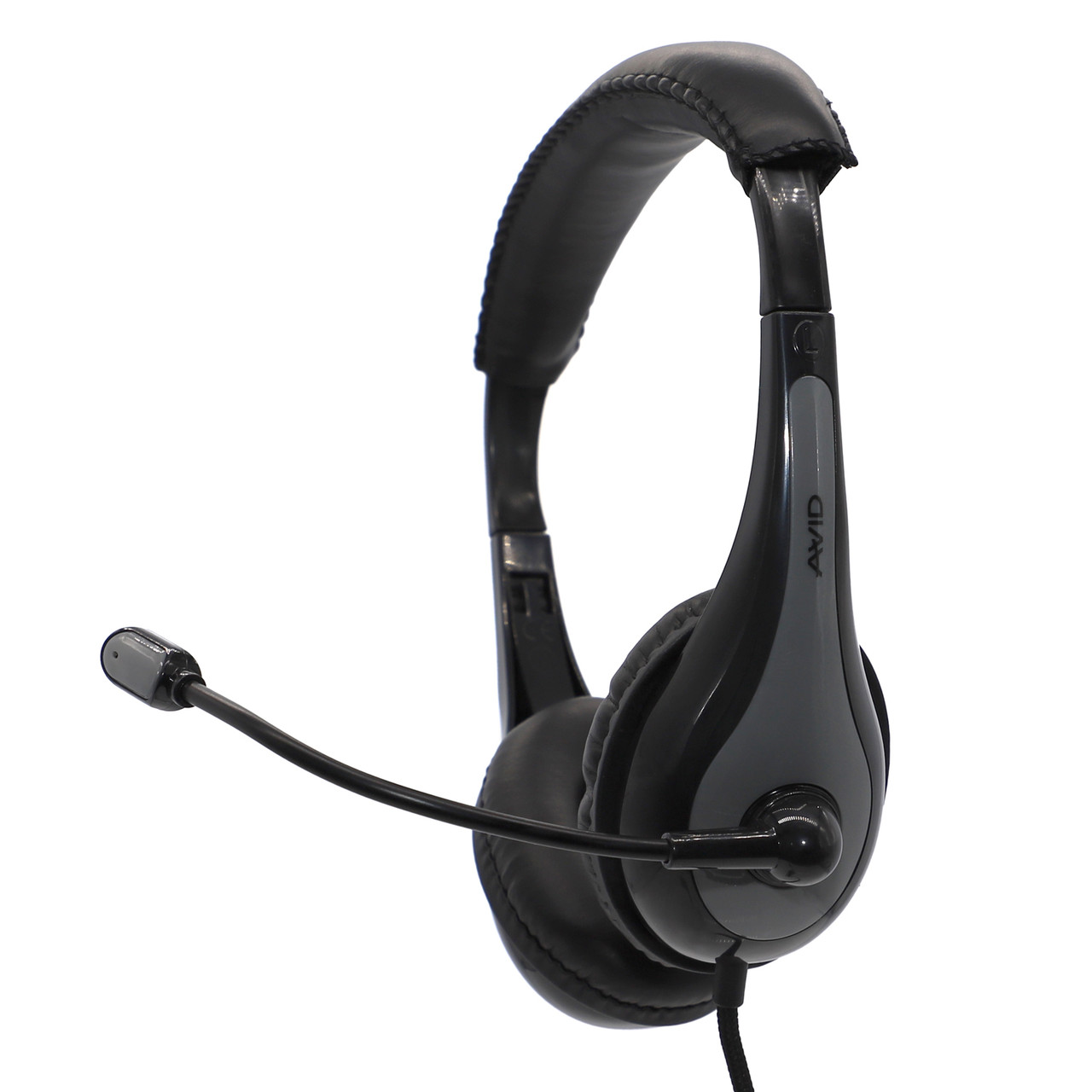 AVID EDUCATION AE-39
The AVID AE-39 headphones are top-of-the-line USB headphones featuring a noise-canceling microphone. This model was created with sound quality in mind, as well as the rigors of daily home working and school environments. The AE-39 is equipped with AVID's signature nylon braided cord, which is sturdy and resistant to twisting. The 1.8m / 6-foot cord with inline controls allows for a wide range of motion during operation, allowing for a more engaging working environment, and then folds up into a Velcro tie for easy storage. You may use the inline controls to mute the microphone and alter the volume of your headphones without having to touch your computer, allowing you to focus on your conversation while knowing that changes can be made quickly if necessary. The vinyl ear pads and headbands are easy to clean and store using any gentle over-the-counter cleansing product, making them ideal for frequent use. The AVID AE-39s can be adjusted to provide the best possible comfort. They have a lightweight on-ear design with a microphone boom and an adjustable headband.
What Are the Features of the AVID AE-39?
Quality Headphone Drivers
When choosing a headset, the headphone drivers are an essential feature to put into consideration. The driver of a headset is the component that grants audio impulses to the user and transforms them into audible sound waves. Magnets and a membrane/diaphragm are commonly used in the AVID AE-39 drivers. The diaphragm is spontaneous due to electrical signals, and these spontaneous vibrations produce sound waves that users can hear. The diameter of the headphone drivers used in the production of AVID AE-39 is quite broad, and the wider the diameter of the headphone driver, the better the sound quality.
When working with low tones, this is very critical. The speaker diameter is also essential for the AVID AE-39 headsets, given that it is an over-the-ear headset. Similarly, the connector you choose is equally crucial as the speakers you utilize. The most popular materials used by AVID AE-39 headset producers are stainless steel, gold, and bronze. The type of material utilized determines the quality of the headphones' electrical conduction, these materials used by AVID AE-39 producers give their headphones the best quality.
Top-notch Sound Sensitivity and Pressure
Ideally, AVID AE-39 is constructed with good sound sensitivity. This is what the term "sensitivity" means: the ability of the headphones to detect sound, even at the tiniest change/volume. This word is used interchangeably by manufacturers with sound pressure. They are used to indicate how loud the headphones can be. Sound pressure levels are used to quantify the sensitivity of headphones, commonly reported in decibels per milliwatt (dB/mW). In contrast, sensitivity reflects how efficiently an electrical signal is translated into a sound wave.
The sensitivity of a headphone is important since it aids in understanding how to control volume and how volume affects voltage. Sensitivity is measured in decibels per voltage (dB/V) and is proportional to frequency. To change the loudness of AVID AE-39 by 6 dB, for example, the voltage must be increased by two times. As a function of resistance, sensitivity affects volume. Higher volume gives higher sensitivity and reduced resistance, albeit there may be extra noise. This extra noise is only noticeable when there is no sound playing. However, with AVID AE-39 having a higher sensitivity, it's expected to be very loud.
Impedance (Electrical Resistance)
AVID AE-39 operates on electromagnetism. So it's crucial to understand how electrical resistance (or impedance) influences the sound quality and this type of headphones you're about to buy. Impedance is measured in Ohms and influences the power of headphones in that the higher the resistance, the more power is necessary to power the headphones.
High-end headsets like AVID AE-39 have a higher impedance, about 300 Ohms or more, and need an amplifier to operate efficiently. In contrast, headphones for mobile phones have lower impedance, about 40 ohms or less, thus needing less power. This may seem like a pro, but low-impedance requires more current, which causes frequent vibrations that produce sound. For this reason, there will be an audible background hiss when utilizing low-impedance headphones. This results in performance problems. With AVID AE-39, you can't encounter this problem as the impedance is high.
Frequency Response
Frequency response is a phrase used to indicate the range of sound frequencies that headphones can produce. Frequency responsiveness is normally measured in Hertz (Hz), with the higher number signifying the frequency that produces high notes (usually labeled as "Bright") and the lower number indicating the amount of bass produced (usually indicated as "Dark"). The AVID AE-39 headphone has a specified frequency corresponding to human hearing frequency, usually between 20 and 20,000 Hz. This makes it perfect for use.
Other features of the AVID AE-39 headphones include:
CONNECTIVITY:

This USB microphone headset allows you to quickly connect to your PC or Mac computer. The headset requires no drivers.
CABLE LENGTH:

The AE-39's 1.8m (6ft) long braided cable is for exceptional durability and prevents the tangling you can get with plastic-wrapped cables.
NOISE-CANCELING:

The boom microphone has noise cancellation technology to limit background noise, giving you clear discussions. This feature makes AVID AE-39 one of the best options for school headphones.
INLINE CONTROLS:

The AE-39's simple inline controls let you instantly mute your microphone and alter your headphone level during calls.
COMFORTABLE DESIGN: Lightweight, on-ear design and adjustable headband are perfect for home working. Really comfy and cooling to wear for extended durations.
What Are the Benefits of the AVID AE-39 Headsets?
It's simple to clean and maintain.

Ideal for one-on-one user interface.

Reliable and long-lasting

Noise cancellation property helps in maintaining maximum focus.

The AVID AE-39 has an ambidextrous design

The headband can be adjusted perfectly for a custom fit
What Are the Specifications of the AVID AE-39 Headset Available?
Impedance sensitivity: 100dB @ 500Hz w 1mW input

Plug type: USB

Magnet material: 32 Ohms @ 500Hz

Volume control: In-line

Speaker size: 40mm Ferrite

Earpads: PU leatherette

Microphone type: Bidirectional method of boom rotation

Color: Silver and black

Frequency response: 20Hz - 20KHz

Channel balance: Within 6dB

Mic sensitivity: -42dB V/Pa

Max input power: 30 mW

Cord: 6' nylon braided effectively with ear cup strain relief

Headband: Adjustable with enough tilt

Packing: 40 pieces per carton
You'll be amazed by the level of quality and durability that comes from this highly-affordable set of school headphones!